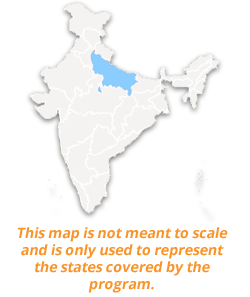 This scholarship programme focused on girl children from marginalised and minority communities in classes VI–X to make it conducive for them to stay in school and develop learning abilities. The programme identified areas in which students need support in order to complete their education, and develop individual growth plans in terms of their interests and career choices.
The Foundation launched this programme in 2007–08 in collaboration with the Sri Sivasubramania Nadar Educational and Charitable Trust. The programme was implemented through 10 partner organisations in Varanasi, Rae Bareli and Barabanki districts, and supported 1,860 girl children.
Julie was born to Shri Panna Lal and Smt. Lalmani Devi on June 15, 1996, in Varanasi. Her father was a poor weaver whose meagre income failed to support the family. Her mother worked at a nearby school as a maid, her small income making no dent in the family's deep financial turmoil. As a result, Julie's elder sister had to leave school after class V. Julie too was growing up, and the precariousness of her future grew too. Her schooling was at stake due to the family's deteriorating financial situation.

Maria Varsi was born to a very poor family in Barabanki, Uttar Pradesh. Her father works as a daily-wage labourer and is unable to provide even twice-daily meals for the family. Humans earn in order to fund the basic necessities—food, clothing and housing. After fulfilling these necessities, they invest their income in secondary things such as education. But in small places like Barabanki, families still have the mindset of not educating a girl child. Maria's father, Mohammed Shafiq, and mother, Sufia Khan, shared a strained relationship and thus lived separately.