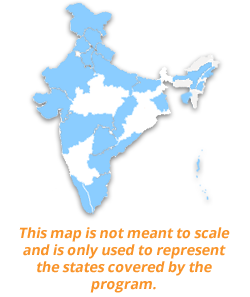 Violent conflicts have been one of the biggest threats to the progress of our society. The pain and losses arising out of violence impact children the most. Children impacted by violence tend to lose out on education and are also at high risk of falling into the trap of violence themselves.
The Rajiv Gandhi Foundation has been working to support children affected by conflict since 1993. The Initiative to Educate, Rehabilitate and Assist Child Victims of Terror (INTERACT) is aimed at supporting children and their families as they cope with the trauma of loss, escape the trap of violence and realign their lives.
The INTERACT programme started with children from Jammu and Kashmir, Punjab, Assam and two districts in Andhra Pradesh. In subsequent years, other conflict-affected states such as Tripura, Nagaland and Manipur were included. In 2002, children from Gujarat and in 2003, children in Mumbai were included in the programme. In 2006, scholars were selected from Chhattisgarh. Till date the Foundation has supported 2,115 children across 11 states and two union territories. This also includes 134 scholars who pursued higher studies or vocational programmes.
Guidelines for selection
Children studying in classes I–XII
Children who have lost one or both parents or guardians to violence
Children belonging to civilian families
Cases emerging from incidences of violence in the period of the last two years
Children from weaker economic backgrounds given preference
Other conditions for support:
Assistance if offered after receiving an attested copy of the annual examination report signed by the school authorities, to be verified by the partner organisation
Support is terminated if the child discontinues his/her education, but can be renewed if the child resumes his/her education.





Govardhana Devi's father was a police constable in Warangal district of Telangana. He was killed by Naxalites on October 7, 1996. The unexpected death of her father left the entire family in shock. Her father not only supported the family, but also her old grandfather and grandmother. The unanticipated demise of her father paved the way for many troubles and difficult times for the family. Govardhana Devi's father was the backbone of the family. His absence left the family shattered both mentally and financially.

Read More…

The lives of N. Thambou Singh and his three siblings were completely devastated when their father was taken and killed by insurgents. Call it divine design or luck, this bright boy was recognised by the Rajiv Gandhi Foundation. Thambou was taken in under the Foundation's education scholarship programme, INTERACT, and his life changed for good. He was sent to Agnel Bal Bhawan, Greater Noida, by the Foundation when he was barely in class I. But the family had hardly recovered from his father's death his mother died as well a year later. The Rajiv Gandhi Foundation did not turn its back on the orphaned children but pledged to support them throughout.

Read More…

Thangjam Chanulenbi Devi was born in a small town of Imphal, Manipur. She was a mere three years old when her father was shot dead by an unidentified gunman at Keisampat on April 12, 1992. With the death of her father, she and her mother found hoards of hitches in their lives. Chanulenbi's mother, Satyabhama Devi, was very young when she was widowed. In order to earn a living and fund the education of her little daughter, Satyabhama began to embroider clothes. The income which came from embroidering clothes was not enough to make a living, however.

Read More…