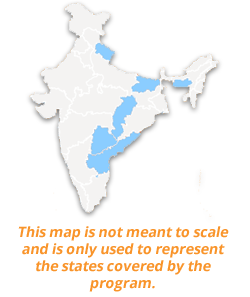 India, like many other countries, is following a model of education delivery that over-emphasises literacy and numeracy skills. The existing learning paradigm perceives information acquisition and its reproduction as the measurement of a child's ability and intelligence. Fundamental change can take place only with a redefinition of learning.
In a scholastic framework, creating an environment for students to discover and construct knowledge for themselves is an integral aspect of enabling learning. In order to create such an environment, it is essential for the child to relate knowledge meaningfully to its own experiences. Learning takes place more effectively if it evolves from the context of the child and is transformative in nature. A transformative approach to learning should aim at building eagerness and confidence in the child's ability to learn. It should enable the child to develop abilities that support the process of learning.
Based on the above understanding, the Foundation launched the Transform Schools programme in 2012. As a part of this programme, government schools in various clusters, or in some cases even blocks, were supported and capacitated to radically change their pedagogy so as to become child-centric. The key changes in this approach to teaching learning were:
Facilitating, not teaching: Teachers had to move away from just teaching to a larger and more empowering method of facilitating the child to learn

Creating multiple learning environments for experiential learning: Children engaged in multiple learning sessions that introduce and encourage them to identify and develop different learning abilities; through this process, children got many opportunities to demonstrate their understanding and also use and further develop their abilities

Concepts, not chapters: Children leartn through concepts that were drawn from the syllabus content; this mapping of concepts was done up to class V

Continuous and comprehensive development of abilities: Through an assessment system that looks at a comprehensive range of abilities, children were provided feedback on an ongoing basis
The Foundation offered support towards capacity building for teachers and teacher supervisors and provided planning and resource support at the school level. The programme was carried out with the concurrence and active involvement of the education departments at the state, district and block levels.
The transformative learning project reached out to more than 900 schools across the states of Andhra Pradesh, Telangana, Bihar, Chhattisgarh, Meghalaya, Uttarakhand and Uttar Pradesh. The details of the clusters are presented below:
State
District
No. of Clusters
Names of Clusters
Andhra Pradesh
Mahabubnagar
Chittoor
Visakhapatnam
3
2
3
Gattu, Padakal, Dharur
Karvetinagar, Shantipuram
Regallu, Pudimadaka, Jolaput
Bihar
Jehanabad
Madhubani
2
1
Nawabganj, Jamanbigha
Simri
Chhattisgarh
Bastar
Mahasamund
3
3
Irikpal, Borpadar, Pahurbel
Sankra, B.K. Behra, Khatta
Meghalaya
North Garo Hills

East Khasi Hills

22

14

Thorika, Damas, Daram, Thapa Khantolguri, Achotchonggre, Waramgre, Gajingpara, Kosichora, Nengsa Wakso, Dainadubi, Mongpangro, Gosingpita, New Harinkata, Gokol, Bekbekgre, Miapora, Gambil Aga, Bolson, Bajengdoba, Thapa Bishrampur, Songmegap, Resubelpara
5th Mile, Nongkseh, Phudmuri, Mawsiatkhnam, Nongshilliang, Rynjah, Nongmynsong, Mawpat, Nongkwar, Madan Iing Syiem, Mawkriah, Madanryting, Mawmih, Rangbihbih
Uttarakhand
Dehradun
Bageshwar
Nainital
Chamoli
1
1
1
1
Jeevangarh
Galai
Nathuakhan
Urgam
Uttar Pradesh
Amethi
Rae Bareli
Bareilly
Chitrakoot
Bahraich
Lucknow
Barabanki
Sultanpur
Ghazipur
Kanpur Dehat
5
4
2
2
2
2
2
2
2
2
Kohar, Paniyahar, Sarmay, Korari Heer Shah, Bramni
Birnava, Kanoli, Khajuri, Goura
Sardar Nagar, Nagaria Vikram
Kapsethi, Ashoha
Bhambora, Badrauli
Khushal Ganj, Banthra
Jahangeeraba, Harak Dekaha
Misrapur, Hemnapur
Gahmar, Sarai Gokul
Nonapur, Ratanpur
The processes reached out to 350 functionaries in districts, blocks and cluster level, 903 head teachers, 1,500 teachers and 96 cluster facilitators from the 12 NGOs. The interventions were focused on enhancing the speaking, writing, reading and social skills of around 50,000 children.