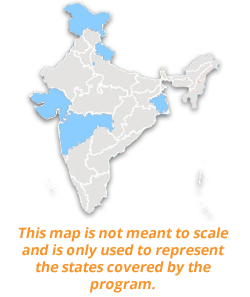 Natural and manmade disasters have been a major cause of fatalities and losses across the globe. India has been very vulnerable to a variety of natural disasters, including droughts, heat waves, floods, high winds and earthquakes. In 2015, the country had 19 events of natural disasters, which cost the state exchequer more than $3 billion. Nearly 60 percent of people globally affected by floods (16.4 million) were in India. On the other hand, hundreds of disasters in the form of riots and other violent acts have also resulted in significant fatalities and economic losses every year.
The Rajiv Gandhi Foundation has a long history of providing relief and rehabilitation support during disasters across the country. The Foundation carried out its first relief work in the earthquake-hit region of Uttarkashi in 1991. During the 1992 riots, the Foundation collaborated with voluntary organisations and distributed relief materials, including tarpaulins, blankets, medicines and cooking utensils. The Foundation identified children affected by riots in Gujarat and supported their education. In the same year, families in the militancy-affected Budgam district were provided psychosocial support.
In September 2014, the state of Jammu and Kashmir was hit by devastating floods. More than 280 people lost their lives and nearly 6 lakh people were left homeless. Around 400 villages were heavily submerged in flood waters and fear of the spread of diseases loomed large. The onset of winters made things worse for the homeless. Quickly responding to the disaster, the Foundation carried out relief activities in five flood-affected districts of Kashmir, namely Anantnag, Bandipore, Baramulla, Budgam and Srinagar. Due to the mobilisation efforts and direct community outreach, nearly 5,000 families were provided relief materials on their doorstep. The Foundation's medical team attended to more than 9,000 patients and provided them free medicines. Around 1,200 blankets and woollens were distributed to protect those affected by the cold. The Foundation also helped operate free langars, providing three meals a day to those stranded. Efforts were also made to provide pure drinking water through RO-based plants set up in affected areas.
In November 2014, heavy rains caused severe damage to the homesteads of the tribes residing in the Khasi and Garo hills of Meghalaya. In partnership with Bakdil, a local NGO, the Foundation carried out relief work in the affected areas. Support in the form of medicines, woollens and relief materials was provided to those impacted by the rains.