Educational Ecosystem Project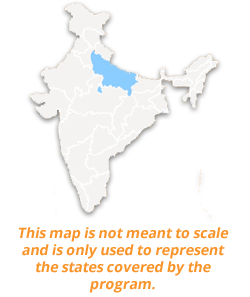 Our Educational Ecosystem project seeks to improve the educational topography of Rae Bareilly and CSM Nagar districts with strategic interventions through children's learning centres (CLCs), children's learning spaces (CLSs) and the government school reform programme. These engaged with community institutions at various levels of governance.
The children's learning centre (CLC) or Aadhar
These are full-day educational centres managed by members of cluster-level associations (CLAs) formed by self-help groups (SHGs). These centres will gradually become the nodal points for the facilitation of the learning approach in government and private educational institutions in that cluster. There are nine CLCs across the two districts and this initiative supports the nine clusters around these centres.
The children's learning space (CLS) or Vistaar
These are creatively designed supplementary and support learning centres open to all children in a village for two hours a day. There are one or two centres per village, depending on the number of children. The community provides the physical space, which is organised and managed by CLA members. There are now 125 such centres across both districts.
Government school reform programme
This intervention project focuses on reforming government schools through the school management committees (SMCs), cluster-level associations of SHGs (CLAs) and Panchayati Raj institutions (PRIs) to develop and review school development plans and strengthen these to evolve a gram panchayat-focused education governance plan. We thereby hope to retain more children in school and anganwadis, and create a more conducive environment for quality learning in government schools.
Our key partners in this are the Rajiv Gandhi Mahila Vikas Pariyojana, whose work with self-help groups in both districts has created a strong community movement of women who are actively engaged in their children's education, and Prajayatna, which focuses on education governance in 11 districts of Uttar Pradesh.