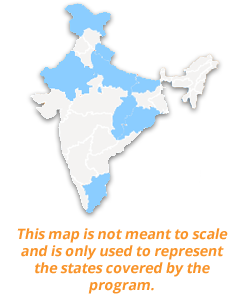 Public and Village Libraries
The Rajiv Gandhi Foundation started setting up libraries in villages and slums across 22 states in 1993. A number of mobile libraries were also initiated. Till date, the Foundation has nurtured a total of 1,648 libraries across the country. In 2013, the Foundation successfully worked with public libraries in Barabanki and Rai Bareilly districts of Uttar Pradesh.
Samangan
As part of its objective to evolve flexible new models, the Foundation focuses on creating information hubs in communities through youth- and community-activity centres called Samangan.
Designed as equal opportunity centres, Samangans encourage young people to come together in a common space to understand issues of mutual interest or concern, forge friendships, and foster a proactive community environment.
Samangans serve as lively learning and cultural spaces for young people in rural and low-income areas across 10 states. Set up in local community spaces such as Samudaya Bhavans or gram panchayat halls, a Samangan encourages dialogue and interactive programmes. These resource centres would gradually be integrated to function with the support of the gram panchayats.