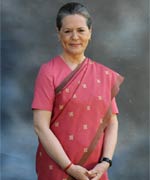 Smt. Sonia Gandhi is the Chairperson of the Rajiv Gandhi Foundation.
Smt. Gandhi was born on December 9, 1946. After her early education, she attended a foreign language school where she studied English, French and Russian. She met Shri Rajiv Gandhi in Cambridge and married him in 1968.
After the assassination of Shri Rajiv Gandhi, Smt. Sonia Gandhi set up the Rajiv Gandhi Foundation, a non-governmental organisation on June 21, 1991. Over the part 25 years, the Foundation has been working to realise the vision of Shri Rajiv Gandhi. As chairperson, Smt. Gandhi continues to provide leadership and take keen interest in the Foundation's activities and programmes.
Smt. Gandhi has authored two books on her husband: Rajiv and Rajiv's World. She has also edited two volumes of letters between Pandit Nehru and Indira Gandhi: Freedom's Daughter and Two Alone, Two Together.
She has a keen interest in issues relating to the empowerment of the disadvantaged, especially women; children's welfare; handlooms and handicrafts; and the environment.